Atmospheric and timelessly elegant – the dimmable
pendant lamp from LIEHT
brings a lot of extravagance and modern design to your rooms. Whether at home above the dining table or at the office in the reception area, the minimalist designs and simple solutions of the LIEHT LED luminaires are versatile and give every room a very special atmosphere.
Instead of distracting from the essentials with too many details and gadgets, our designer lamps convince with a minimalistic, clear design and a clean look.
Pendant lamp dimmable: light mood depending on the time of day
The dimmable pendant lamp is one of LIEHT's most popular designs.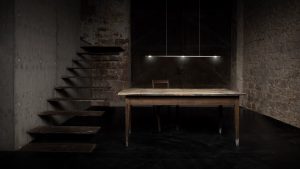 Simple and elegant, the LED lamp gives the respective room a very high-quality look. The design looks very modern and still gives the surroundings a certain charm. Especially switched on, however, the design light from LIEHT has an enormous effect.
Depending on the mood, premises, company and occasion, the brightness of the lamp can be manually raised or down. From a bright, clean light in the morning to a softer tone in the afternoon, to an atmospheric light in the evening, the PENDANT light from LIEHT accompanies you through your day and always adapts to your requirements.
Dimmable pendant lights dip your home
or office in new light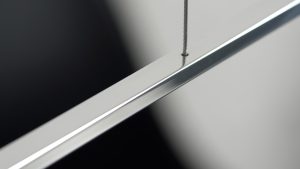 The LIEHT pendant luminaires are versatile and make both your working and private rooms shine. In your own home, the designer lamp gives your premises a particularly modern and high-quality look. The luminaire looks particularly elegant above your dining table, for example. Thanks to the fact that the pendant lamp is dimmable, you can choose a different light here for a romantic dinner than for breakfast in the morning.
But also as a ceiling lamp, especially in very large and open spaces, the LIEHT pendant lamp (dimmable) is a real highlight. As a contrast to rather cosy wood, the designer lamp provides a certain balance and fresh wind. In combination with a very clean and modern design, however, the LED lamp emphasizes the already existing look and adds new nuances to it. In the office or business premises, the dimmable pendant lamp is particularly suitable for meeting rooms, the reception area or your own desk.
A real single piece – your dimmable pendant lamp from LIEHT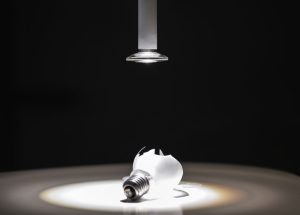 Each LIEHT designer lamp is hand-made by us and manufactured in our in-house factory. We attach particular importance to high-quality materials, clear designs and 100% perfect workmanship. Choosing a LIEHT designer lamp is a choice for uncompromising quality.
To ensure that your very own dimmable pendant lamp fits perfectly into your premises and existing furnishings, we are happy to produce each model explicitly according to your individual wishes. You can freely determine the size, length and height of your dimmable pendant lamp. In this way, you get a real unique piece that fits exactly to you and your premises.
Pendant lamp (dimmable): delivery time is only seven days
As with the production of our LIEHT designer lamps, we also relied on perfection in direct contact with our customers. Our goal is that everything goes exactly according to your wishes. For this reason, we are also happy to advise you personally on the various models from our factory. Together we will find exactly the LED lamp that best suits you and your needs.
If you have chosen a model, you can simply order your very personal production online. Your LED light will be delivered directly to the desired address after only seven days.
Have we made you curious? Then contact us by phone +49 6321 1890404 or by e-mail at info@lieht.com.
We look forward to hearing from you.
Elegant, timeless and high-quality, the LIEHT designer lights